Every piece is handmade to order. Currently the waiting time is about 5 weeks, plus delivery time (which usually takes 1-4 weeks with Polish Post option, depending on the destination country but can be longer sometimes. For faster delivery choose carrier shipping option: FedEx, GLS, Dpd).

REVINTARIA is a slow fashion clothing brand born from the need to create beautiful things that will last for years.
Our clothes are inspired by nature and spirit of old times, all made of natural fabrics. To help save our planet, for every purchased piece we plant a tree.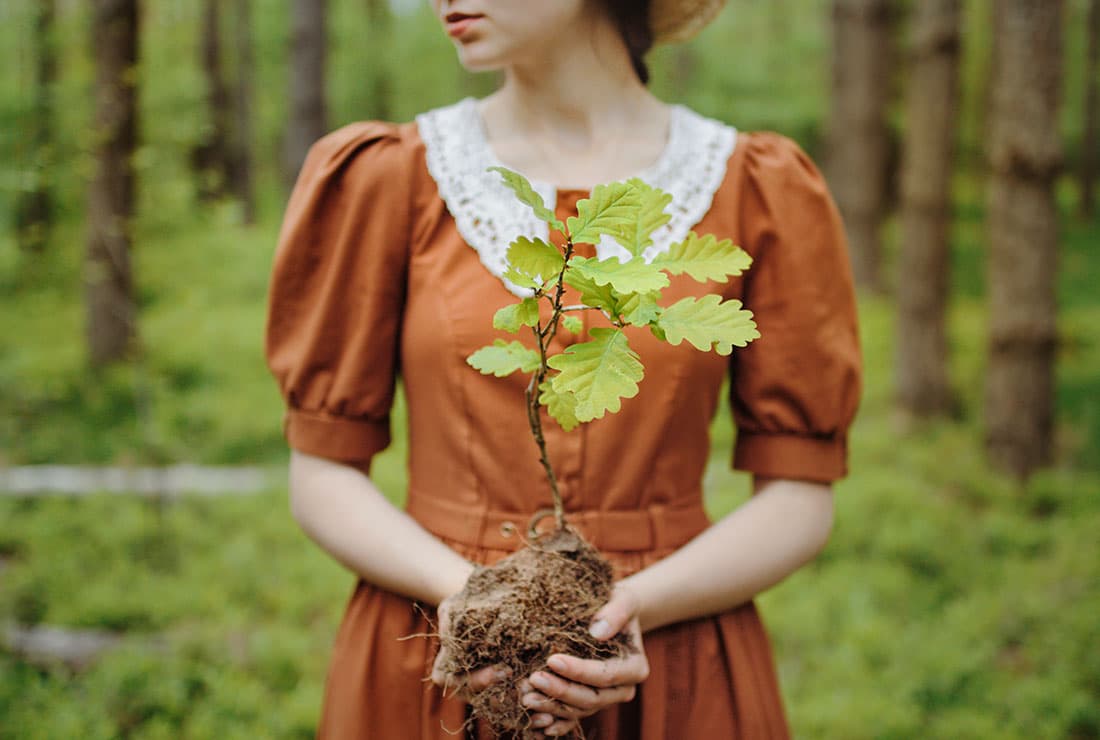 Despite the days becoming shorter and darker, our hearts are filled with light and joy for the upcoming season. Can you feel the scent of spruce branches swaying softly in cold crisp air? In the magical December forest all is calm, all is bright…

Autumn – time of slowing down and cozying up. Time to grab a cup of hot spiced coffee, bring out your favourite boots and wear colours that warm up soul. Caramel, cinnamon, chocolate, rust brown – hues that surround you like a hug, bringing sense of comfort and peace. Wrap yourself in warm flannel and corduroy, soft linen and muslin and hear Autumn whispering in your ear: you're safe now, you're welcome…

Imagine walking through a blossoming apple orchard on an early May morning, white petals covered in dew, bird songs filling balmy air. You're wrapped softly in cotton and linen, their shades reminding you of lilacs and peonies so much you can almost feel their sweet scent. The most beautiful time of the year has just begun and the whole world is bursting with joy.

Winter forest, sometimes snowless and gloomy, yet so full of unobvious beauty. Other days sparkling with white magic, a true wonderland. Nature seems deeply asleep, but if you stop and listen carefully, you can hear the trees whispering tales of winters past. Let's surround ourselves with brown, white and muted green, warm cotton and soft linen, and go blend in this enchanting landscape together.

The season of light, love and warmth is upon us. The time of giving and being grateful. It's never too early to start finding that childlike joy in us for the upcoming festive season, so why not start now? We're thrilled to share with you our mini collection of seasonal pieces, inspired by this beautiful time of the year. This December is going to be magical!

Autumn arrived again, bringing its golden hues, crisp air and gentle melancholy. Let's go for a walk in an old park together, down the wet cobblestone paths covered in brown leaves. Rain stuttering gently in our umbrellas, our clothes reminiscenting of the days gone by, soaking in every moment of this magical season.

The wheel of the year has turned once more, bringing us another summer. Let's enjoy the wonders of this magical time together with our second summer collection of ethereal pieces. We hope that they'll inspire you to slow down a bit, stop by the road to smell flowers, watch shooting stars, run through the fields while it's raining. All the simple, but often so forgotten things, that will bring back memories of bygone summers from your past.

Spring is the season of rebirth, of light and life coming back after winter sleep. Sweet sound of birds singing, warm evenings with balmy air, wildflowers blooming in the forests, intoxicating scent of lilac and jasmine – all blending together into one exquisitely beautiful melody of spring. Let's experience these nature's miracles together with our collection of ethereal pieces, their colours and patterns bringing out the elusive beauty of this most anticipated of seasons.

Winter – time when nature falls asleep and the whole world slows down. Time of stillness, melancholy and reflection on the past. Let us take you to a nostalgic journey in search for the beauty and magic of this coldest of seasons with our collection of pieces inspired by old times, reflecting the muted, earthy colours of winter landscape.

Let us bring a spark of Christmas magic to you with our mini collection of seasonal pieces. Red, green and white, soft muslin and warm flannel, tartan and lace to get you in the festive spirit for this most wonderful time of the year.

Inspired by all the best things about autumn: colourful leaves, crisp mornings, crackling fire, hot drinks with spices, pumpkin patches and long scenic walks. Warm colours and soft fabrics to keep you cozy during the most beautiful of all seasons.

We are happy to introduce you to our first collection 'Vintage Summer'. Inspired by meadows full of wild flowers, long forest walks and rainy summer evenings. Mustard yellow, cinnamon brown and warm beige, flowers and lace for living your vintage summer dream.